The National Stone Centre is a spectacular site made up of 6 former limestone quarries. What has been created after years of dormancy is a unique environment to explore the natural landscape as well as our industrial heritage.
Operated as an educational charity, the site seeks to engage and inform visitors about the importance and history of stone and its allied industries.
Visiting Us
Opening Hours
Free of charge, open access to the site all year round. The Discovery Centre including the café and Rock Shop are open everyday except Christmas Day from 10:00am. Modest car parking charges apply which helps to maintain the site.
Facilities
Outdoor and indoor activities for visitors to enjoy:
OUTDOOR SITE TRAILS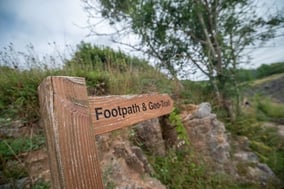 Self-guided trails that follow geological, ecological, industrial heritage or sculptural features of interest.
Geology: the land was formed 330 million years ago in warm, shallow waters which means there are fossilised crinoids and brachiopods.
Ecology: the landscape is dominated by woodland with plants that thrive in land that has formerly been quarried.
Industrial Heritage: stone and mineral extraction are amongst the oldest known industries and this site has lime kilns, railway tracks, workers cottages and mine shafts.
Sculpture: in 2003-2005, sculptor Denis O'Connor was commissioned to produce 3 limestone towers by Wirksworth Arts Festival to reflect the industry across the region.
MILLENNIUM WALL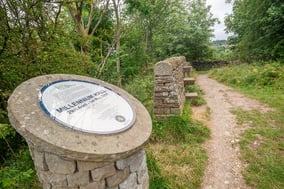 A collection of stone walls that showcase how these countryside features add to the unique character of a region according to the local stone available.
GEOSTEPS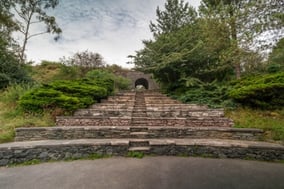 A special auditorium and performance arena - the ten risers represent the transition of rock ages in ascending order.
THE DISCOVERY CENTRE
Head here for toilets, the cafe, Rock Shop and visitor experience. Free wi-fi available.
CAFÉ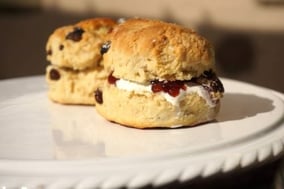 Friendly staff prepare fresh hot and cold food with locally sourced ingredients. Enjoy coffee and specialty teas that provide the best views in the area from the terrace.
ROCK SHOP
Rocks, minerals, crystals, fossils, attractive jewellery from all over the World and local specialities - gifts from pocket money prices upwards – books, maps, guides, prints also available.
STORY OF STONE VISITOR EXPERIENCE
Discover how stone is formed and it's different uses. Explore the industrial heritage and modern techniques of how stone is extracted and processed, and the many ways the materials produced support our everyday lives. Free for all visitors to the NSC to explore.
Accessibility
Disabled parking; changing and toilets.
Site trails follow natural contours. The main path around the site has a flat surface, but certain areas may be difficult to navigate due to natural conditions.
The National Stone Centre is private land open to the public to enjoy for recreational purposes. When on-site follow the signposted guidance and advice provided.
Finding Us
Porter Lane, Wirksworth, Derbyshire DE4 4LS*
*Please note, if using a sat nav, enter National Stone Centre as some sat navs can be misleading.
what3words coordinates: ///advantage.harnessed.doing
ROAD: Entrance on B5035 Cromford to Carsington
WALKING OR RIDING: High Peak Trail runs across the NSC Site; plus many local paths